On October 6th of 2017, my friend committed suicide, his story will never continue in this world, but it will in heaven. Although it still pains me that he's gone. And he's never coming back. This article was posted on the first anniversary of my friend's death.
​
Why did such an atrocious thing happen? I don't know. I thought I knew all the answers, especially when it came to life and death. However I do know this, that Christ has died for our sins, and arose to give us eternal life. No matter what kind of tragedy occurs in one person's life doesn't mean they're separated from Him. Even when they sin.

​My goal is not to make you cry or laugh, but to simply remember not only my friend's passing, but that we should never forget, while also moving towards a better tomorrow by having God in your life rather than doing it on your own. Otherwise it's meaningless.

Life

I would criticize life about a year ago because of how hard it is, however it's actually a gift. See Christ provides a way for us to live not just for Him, but also for the things that involve God's plan for us. Before accepting Christ, that person was considered dead. Even though they were alive to begin with, they weren't inside their core. You could say that you are no different than a walking corpse, that all of us are. Romans 2:17-29 says,

"

You who call yourselves Jews are relying on God's law, and you boast about your special relationship with him.

You know what he wants; you know what is right because you have been taught his law.

You are convinced that you are a guide for the blind and a light for people who are lost in darkness.

You think you can instruct the ignorant and teach children the ways of God. For you are certain that God's law gives you complete knowledge and truth. Well then, if you teach others, why don't you teach yourself? You tell others not to steal, but do you steal?

You say it is wrong to commit adultery, but do you commit adultery? You condemn idolatry, but do you use items stolen from pagan temples?

You are so proud of knowing the law, but you dishonor God by breaking it.

No wonder the Scriptures say, "The Gentiles blaspheme the name of God because of you."

The Jewish ceremony of circumcision has value only if you obey God's law. But if you don't obey God's law, you are no better off than an uncircumcised Gentile.

And if the Gentiles obey God's law, won't God declare them to be his own people?

In fact, uncircumcised Gentiles who keep God's law will condemn you Jews who are circumcised and possess God's law but don't obey it.

For you are not a true Jew just because you were born of Jewish parents or because you have gone through the ceremony of circumcision.

No, a true Jew is one whose heart is right with God. And true circumcision is not merely obeying the letter of the law; rather, it is a change of heart produced by the Spirit. And a person with a changed heart seeks praise

[d]

from God, not from people,"

concerning the Jews and the Law, which can be applied to many people who claim they're good or Christian. For the Law is what condemns us all as sinners no matter if we're poor or rich, slave or free. It's what binds us until we accept Christ into our lives as John 3:16 says, "for God so loved the world that He sent His begotten Son, that whosoever believe in Him should not perish, but have everlasting life," a verse that's really common among believers, including non-believers, but is common because of how much it rings in society. This is truly good news, and hope to anyone that needs salvation, yet can only get it through Jesus, as John 14:6 says, "Jesus told Him, 'I'am the way, the truth, and the life. No one can come to the Father except through me,' " Which to put it into context, Peter was asking which way God was through salvation, and Jesus is actually the only person who says that it's through only not many, but one way. Which is Himself, instead of saying it's subjective, or that He is not the savior, which he totally did not say unlike most religions that contradict their own teaching by saying that truth is Universal, which is not the case with Christ.

In Romans 8:28, and 2 Corinthians 8:1-2 are the best interpretations that there's always a reason for it all, that includes pain, and brokenness. Romans says, "

And we know that God causes everything to work together for the good of those who love God and are called according to His purpose for them,

" for even though something so tragic has happened to my friend, God will turn it into good just as He did with Job, Abraham, Moses, David, Solomon, the entire nation of Israel, and even Jesus. 2 Corinthians says, "

Now I want you to know, dear brothers and sisters, what God in His kindness has done in the churches of Macedonia. They are being tested by many troubles, and they are very poor. But they are also filled with abundant joy, which has overflowed in rich generosity,

" which means that in our distress, it will not stop us from being kind to one another. It might even strengthen it. For I believe that it's easier to be mean, because our sinful nature that drives us all to snap at one another. Kindness takes energy, and is definitely harder to maintain in hard circumstances. What we say and do to others may affect them in a negative way. I know I'm one that's guilty to do so, and upon learning that I discovered redemption in Christ. But you know what? I still do it, not because I can, but because it's in my nature to be a jerk when really I can choose kindness, and love. Upon choosing those things, it reaps good results that makes me a better person. Not because I made it so within my own power, but because I want to please my God by doing the things He deems as beneficial to myself, and everyone around me.

I wish I could say that it gets easier, and more happy when you apply scripture to your life. It can make us sober, wise, hopeful, joy-filled, encouraged, and at peace because it comes from God, not us. For a strong dose can sometimes cause pain, but will have long lasting benefits. Philosophy is like shifting sand, sure it looks alright, but it's not something to place your faith in. Especially when it comes from our own understanding instead of God's. As Proverbs 1:7 states, "

Fear of the Lord is the foundation of true knowledge, but fools despise wisdom and discipline" ,

which means that the only way to true knowledge is to be awed by God's sovereignty and omnipotence, that way we not only understand how things work, but also gain His Holy Spirit whom gives us the power to report it, if one chooses to believe in Jesus that is, as said in John 16:5-15, "

But now I am going away to the one who sent me, and not one of you is asking where I'm going. Instead, you grieve because of what I've told you. But in fact, it is best for you that I go away, because if I don't, the Advocate won't come. If I do go away, then I will send Him to you. And when He comes, He will convict the world of its sin, and of God's righteousness, and of the coming judgement. The world's sin is that it refuses to believe in me. Righteousness is available because I go to the Father, and you will see me no more.
"Judgement will come because the ruler of this world has already been judged. There is so much more I want to tell you, but you can't bear it now. When the Spirit of truth comes, He will guide you into all truth. He will not speak on His own but will tell you what He has heard. He will tell you about the future. He will bring me glory by telling you whatever He receives from me. All that belongs to the Father is mine; this is why I said, 'the Spirit will tell you whatever He receives from me.'"

What does this mean? Well to break it down, the Advocate and the Spirit are one and the same. Because Jesus left this world, we have this awesome power that would put Moses and the other prophets in the OT in wonder because we can now use whatever God gives us, as long as we believe in His Son. For true damnation does not come from our hearts since all of us are sinners, but rather it's the fact that the choice to believe in Jesus or reject Him is the unforgivable sin to God. And God will know whether or not that person is truly saved. Even if it seems as though that some belong to Christ, when really they belong to the devil by lying about their sainthood just as Satin is doing.

See here's the thing, this life is finite. Their are two ways you can make it infinite, one being eternal damnation, or a long lasting life that puts us with the Father and His Son. True hell isn't just flames or suffering, but is a sufferable place where no one can reach God anymore. No matter how many good works you, it will not save you. It will only condemn you, just as we hear Paul state in Romans from earlier, he also says in 2 Corinthians 6:7-11, "

The old way, with laws etched in stone, led to death, though it began with such glory that the people of Israel could not bear to look at Moses' face. For his face shone with the glory of God, even though the brightness was already fading awa

Shouldn't we expect far greater glory under the new way, now that the Holy Spirit is giving life?

If the old way, which brings condemnation, was glorious, how much more glorious is the new way, which makes us right with God!

In fact, that first glory was not glorious at all compared with the overwhelming glory of the new way.

So if the old way, which has been replaced, was glorious, how much more glorious is the new, which remains forever!"

The law is discussed in such a way where we are all sinners by birth, we cannot achieve perfection at all through our own feats, for there is at least one sin in God's standard in which we have messed up on every day. Trying to be perfect would be like condemning yourself, for you wouldn't be admitting to sin. Yet through repentance, we see a glimmer of God's grace and love, which is and alway has been and will be. The more we get into His Word, the more we realize unholy we are, and what we can do to be holy as Isaiah 6:5 says, "

Woe

to me!" I cried. "I am ruined!

For I am a man of unclean lips,

and I live among a people of unclean lips,

and my eyes have seen

the King,

the

Lord

Almighty."
What does this have to do with life? Everything. For true life is not found in this damned earth, but rather in Christ, whom gives meaning to all whom are lost.

How dread are Thine eternal years,
O everlasting Lord!
By prostrate spirits day and night
Incessantly adored!

How beautiful, how beautiful
The sight of Thee must be,

Thine endless wisdom, boundless power,

And awful purity!

Oh how I fear Thee, living God!

With deepest, tenderest fears,

And worship Thee with trembling hope,

And potential tears.

~Frederick W. Faber

Death

Humans are stubborn creatures. From the day we're born to the day we die, we refuse to look weak to others, and try our best to look strong. It costs us sometimes, for each of us have different opinions, ideals, and theologies, and it's something that's splinted us from each other. People are willing to fight for their "beliefs" no matter how wrong it is compared to the actual truth that is Jesus. Because of this we are inclined to cause harm to one another. The only times I've witnessed the unity in man is when the birth of a child succeeds, a wedding of two becomes one, and when a tragedy in death occurs.

Death is the enemy to us all, it's a truth none of us can avoid. For we all live only to die. Everything we do then is meaningless, no matter how much the volume in what we do or say is increased, our life will fade into dust.

That is if God isn't in the picture. When He is however, we do not have to please others or our selfish desires, only Him and what He has to say. Jesus died and rose again, literally defeating death by offering eternal life to those whom believe in Him as John 3:16-17 says, "

For this is how God loved the world: He gave his one and only Son, so that everyone who believes in him will not perish but have eternal life.

God sent his Son into the world not to judge the world, but to save the world through Him", and 1 Corinthians 55-58 says, "

O death, where is thy sting? O grave, where is thy victory?

The sting of death is sin; and the strength of sin is the law.

But thanks be to God, which giveth us the victory through our Lord Jesus Christ.

Therefore, my beloved brethren, be ye stedfast, unmoveable, always abounding in the work of the Lord, forasmuch as ye know that your labour is not in vain in the Lord."

Death represents sin, so what does that mean? It's simple, before many of us believed in Christ, we were dead to ourselves in our sin. Many of you whom aren't saved is quite literally and metaphorically dead. The Christian was like a walking corpse with false hope, and a hunger for flesh that could not satisfy this gaping hole within before they were saved. When I became one with Christ like many, I crucified whatever my old self used to be, and allowed the Holy Spirit to save me and change me into a man full of kindness and gentleness, as Galatians 5:22-24 says, "

But the fruit of the Spirit is love, joy, peace, forbearance, kindness, goodness, faithfulness,

gentleness and self-control. Against such things there is no law.

Those who belong to Christ Jesus have crucified the flesh with its passions and desires.

Since we live by the Spirit, let us keep in step with the Spirit.

Let us not become conceited, provoking and envying each other", or as Romans 8:12-14 says when I'm free from the Curse that is sin, "

Therefore, dear brothers and sisters, you have no obligation to do what your sinful nature urges you to do.

For if you live by its dictates, you will die. But if through the power of the Spirit you put to death the deeds of your sinful nature, you will live.

For all who are led by the Spirit of God are children of God."

Since we have the choice to have eternal life, it defies the traditions of life, which is that we don't have to work for our own salvation, as every religion believes in. Instead, our salvation comes through our faith in Him as said in Ephesian 2:8-9, "

God saved you by his grace when you believed. And you can't take credit for this; it is a gift from God.

Salvation is not a reward for the good things we have done, so none of us can boast about it.

For we are God's masterpiece. He has created us anew in Christ Jesus, so we can do the good things he planned for us long ago

." We defy death since this life is only momentarily, the new rules are instead of all of this being the end, it is actually the beginning of a whole new adventure without sorrow or pain quoted in Revelations 21:4, "He will wipe every tear from their eyes, and there will be no more death or sorrow or crying or pain. All these things are gone forever."

It's ironic to think that people pretend to walk around like they are alive when really they're dead. We're like broken cisterns, waiting to be filled with water that cannot be contained. Only Christ can give us this water of life, which says in John 4:10-14 when Jesus addressed the samaritan at the well, "

Jesus replied,

"If you only knew the gift God has for you and who you are speaking to, you would ask me, and I would give you living water."

"But sir, you don't have a rope or a bucket," she said, "and this well is very deep. Where would you get this living water?

And besides, do you think you're greater than our ancestor Jacob, who gave us this well? How can you offer better water than he and his sons and his animals enjoyed?"

Jesus replied,

"Anyone who drinks this water will soon become thirsty again.

But those who drink the water I give will never be thirsty again. It becomes a fresh, bubbling spring within them, giving them eternal life.""

We are all sinners, and it's our choice to recognize that we are and embrace God's grace, or stubbornly refuse that we are evil and continue to act as rebels when really, we're not. If all of us are deemed as sinners, then what else can we do that will shock God? True rebellion is belonging to Christ. For in reality, the one whom owns this earth is Satan, and anyone whom refuses God belongs to the devil.

​Andrew

What in the world does any of this have to do with one of my good friends, Andrew? Well Andrew is a tragic example of what it means how sin affected him. Do not make any mistake of me saying that Andrew himself sinned and resulted in his suicide. For while that is true, I'm also speaking of the sins of others that affected his decision. Do not make any mistake of me blaming anyone for Andrew's death. I'm past that. The reason I type this is not to guilt others or to tell you what is right and wrong. For even though this article may seem preachy, I'm writing from what God has to say in this message to all that need to hear it. To not type this to many of you would be displeasing to my Father, and would also disobey His command to warn the people, as Ezekiel 33:1-9 states, concerning what the prophet of Ezekiel spoke to the Israelites when they lived in wickedness, "

Once again a message came to me from the

Lord

:

"Son of man, give your people this message: 'When I bring an army against a country, the people of that land choose one of their own to be a watchman.

When the watchman sees the enemy coming, he sounds the alarm to warn the people.

Then if those who hear the alarm refuse to take action, it is their own fault if they die.

They heard the alarm but ignored it, so the responsibility is theirs. If they had listened to the warning, they could have saved their lives.

But if the watchman sees the enemy coming and doesn't sound the alarm to warn the people, he is responsible for their captivity. They will die in their sins, but I will hold the watchman responsible for their deaths. "Now, son of man, I am making you a watchman for the people of Israel. Therefore, listen to what I say and warn them for me.

If I announce that some wicked people are sure to die and you fail to tell them to change their ways, then they will die in their sins, and I will hold you responsible for their deaths.

But if you warn them to repent and they don't repent, they will die in their sins, but you will have saved yourself.""

My testimony of Andrew was unfortunately short. For I ran with him for many months that started from the beginning of Summer to October 6. Andrew was a weird kid with the ability to think outside the box (a quality I very much appreciated), he was intelligent, loved to read books, he was goofy in the good sense, and he was a kind and gentle soul. I never thought negatively of him and even took him under my wing as a friend. I honestly have no guilt of doing any wrong to him, for I have not, which is hard to believe considering how critical I'am. The only guilt I do have is not hanging out with him more, and not having the time I should have spent to be around him more. I still grieve for his loss. There are no words that can describe this gaping hole he left in my chest. I honestly wish he didn't end up making that decision, for he not only left me alone, but also everyone else whom loved him such as his mom, his dad, and his sister. Since then, I was not the same. I honestly wore a screw off label on my forehead because I was hurting. It wasn't right, yet that's the story. I was hurting. Like many of his friends whom cared for him. I wish he was still alive, I wish I could have ran with him more and see what kind of a potential he would make in track. What's funny is that while I was hurting as well as the rest, everyone moved on like it never happened. I was in a period of sadness, anger, and bitterness because I knew there were people who was mean to him. At least after his death I found out. Yet I won't say their names here, for now I have come to a place of forgiveness. That doesn't mean we should forget. That I will forget the tragedy that struck my friend. It didn't sit well with me that year, and because of my struggle to accept what had happened and to move on without forgetting was hard to swallow. After all, we're all broken. We're all guilty. I'm guilty, for even though I wasn't mean to Andrew, I was more mean because I saw everyone except a handful as my enemies. Yet even though his decision was influenced by many, he still made the call. Because of this, it has hurt everyone else around him. It's why it's a sin. For even though it will bring him "peace," it will hurt others, just as what any other sin does, it hurts. It's why it's selfish, for because he could not find a "way out," he chose his plan instead of God's. This doesn't make the influencers any less guilty. They might as well have murdered him. Alas, I cannot judge, and to be quite honest, I really don't blame anyone anymore. I'm exhausted. This is bigger than me, and I will let God take care of this. For if I were to condemn, it wouldn't be right because of my sinful nature. No one is right except the Lord in this story, for even though my friend is dead, I will see him again in heaven. He was saved by Christ, and I have a reason now to be excited for the day I die, because I'll see my friend again. Until then, I will continue to live in this meaningless life by growing into what God wants me to be, and this life isn't so bad if Christ is in the center. Besides, I still have to get married like many of my friends now have done, and I still have to go to college so that I can get my degree in English literature and writing and publishing so that I can be the best writer God plans me to be. Before I go, I want God to use me up until I die at a ripe old age, of natural causes of course! Because when God is in the center of your life, there's meaning to what He oughts us to become.

People should be careful about how they treat others, it's why the overrated golden rule is presented

in Matthew 7:12,

"Do to others whatever you would like them to do to you."

Which is a verse I now want to put into practice, especially with what I've done.

Proverbs 26:18-19 says, "

Just as damaging

as a madman shooting a deadly weapon

is someone who lies to a friend

and then says, "I was only joking.""

Ephesians 5:4 says, "

Obscene stories, foolish talk, and coarse jokes--these are not for you. Instead, let there be thankfulness to God."

We go back to Proverbs in 24:28 and that says, "Don't testify against your neighbors without cause; don't lie about them."

If we were to pass actual blame it should be to the Enemy who was the biggest influence in humanity's decisions, let alone Andrew's. It was Satan, who strung him along so that Andrew would never have the possibility to share Christ with others as well as getting past the inner darkness he held from within. It was sin that influenced him to fear everything when really he should have feared God. While we are all sinners, we should be called to love the person, but be angry with the sins they make. It's Christ that makes us clean, and gives us hope, He's the only one to judge since His is pure.

Conclusion


The question is not whether you choose Life or Death, it's whether you will choose Christ as your salvation. Even though what Andrew did is considered sin, he's still saved since he asked Jesus as his personal savior the day he became Christian, so he's in heaven and I can't wait to see him. If you say that because of Andrew's sin, which was suicide, separates him from eternity, it's not only untrue, but it's crap worth theology.

I wrote this to all sorts of audiences, yet we will stick to both Christians and non-believers. I also wrote this to heal myself, and to God whom watches over all who suffers from darkness. The reason I wrote this to fellow believers was to remind them what pleases and displeases God, so that they might take to heart to be more kind and less arrogant.
To non-believers, I say unto you that even though all of us are sinners, and that we can't save ourselves, that doesn't mean you don't have hope. Your sin, however terrible it is, doesn't separate you from God's glorious standard, which is to be accepted into His family by accepting His Son into your heart. Rejoice! For the one that has risen from the dead came back to offer you eternal life. In death He took the wrath of God's judgement, and by rising from the grave He now offers you to live forever with Him. The Banner that is Christ offers hope. The Rock that is God offers immutable protection. The Great I'AM that is Yahweh offers power from the Spirit, as well as wisdom to all whom is hungry. Your lives will have more meaning since you're not out to please others or yourself, but to a God whom never will let you go, and will forgive you for anything.

If God is for us, who can ever be against us? Since he did not spare even his own Son but gave him up for us all, won't he also give us everything else? Who dares accuse us whom God has chosen for his own? No one—for God himself has given us right standing with himself. Who then will condemn us? No one—for Christ Jesus died for us and was raised to life for us, and he is sitting in the place of honor at God's right hand, pleading for us.
Can anything ever separate us from Christ's love? Does it mean he no longer loves us if we have trouble or calamity, or are persecuted, or hungry, or destitute, or in danger, or threatened with death? (As the Scriptures say, "For your sake we are killed every day; we are being slaughtered like sheep.") No, despite all these things, overwhelming victory is ours through Christ, who loved us.
And I am convinced that nothing can ever separate us from God's love. Neither death nor life, neither angels nor demons, neither our fears for today nor our worries about tomorrow—not even the powers of hell can separate us from God's love. No power in the sky above or in the earth below—indeed, nothing in all creation will ever be able to separate us from the love of God that is revealed in Christ Jesus our Lord.
​Romans 8:31-39



A little about me

I'm an opinionated young gent that puts them on display in the best of quality.
Powered by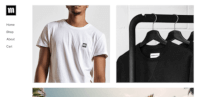 Create your own unique website with customizable templates.
Photo used under Creative Commons from aldenjewell