Guardians Of The Galaxy:
Collect Them All


Written By: Corinne Duyvis
Ratings: 3 out of 5

Hello readers! I'm proud to present my first legit article from my blog. Now in all honesty, I didn't like this book. In fact, I detested it. So why am I proud of this particular article? Well for a simple reason: because I get to display my critiqueing skills to the fullest.

As you saw above, I rated this a three out of five. "Why?' you ask. After I get into the characters, synopsis, and theme, I must get to the problems I had with this book, and "the good stuff". Disclaimer: lots of brain cells were harmed during the reading of this pathetic excuse of literature. Now if there are some things that you disagree with, we can talk about it. I'd be happy to read your opinion. But I'm not going to change anything just because you're offended, that would make me a terrible critic!

CharactersGroot:

A tree species that loves water, the galaxy, and his friends. His story is that he was kicked out of his planet because he disagreed the way they treated humans.

After dying, Groot can come back, that is if they plant him in a pot. Now that's where the plot creeps its way in; someone has been salvaging pieces of Groot, making him weak for they have been cloning him.

Peter Quill: The one who started the Guardians of the Galaxy. He's a terrible flirt that's half human and half god...kinda like a demigod! Except that there's no Half-Blood Hill (a place in the Percy Jackson world)...such a shame.

He was stolen as a boy from his step-dad Yondu for Quill's real dad who was a god. Did I forget to mention that his mother died of cancer before all that?

The Collector/Tivan:

A god that has a fetish for collecting everything. Well I wish I could say more about him, but there's really not anything much to tell.

Rocket:

A raccoon that has augments of his own as well as a love for technology and weapons.

Drax:

Also known as the Destroyer because...well he destroys things I guess. He's the most feared berserker in the galaxy for his annihilations on Thanos' army; the Kree. What made him this way was the destruction of his planet, and the murders of his wife and daughter. And guess who the lucky son of a gun was who killed them. You guessed it; Thanos himself.

Gamorra:

Much like Kiya, they are both from the same planet. Gamorra is the adopted daughter of Thanos, who took her under his wing and made her an assassin with augments (which is another word for robot parts; which kinda makes her a cyborg).

After finding the Guardians, she turned her back on the life she had and used her specialties for good.

Kiya:

A teenage Zen-Whoberian (the same species as Gamorra) with an attitude. She was Tivan's "assistant" in the cloning Groots. Apparently Tivan wanted to make her like Gamorra for his...collection. He takes her from her home at a young age and augments her.

After she ran away from him for the second time, she took the notes on how to make copies of the Groots from her "master."

Synopsis
​

What happens in this excuse for literature, is that the Guardians of the Galaxy figure out that Groot is weak after they all save a kree planet meant for prisoners. They find out, at a landing bay, that there are multiple Groots and that they know one person whom could have done this; Tivan, otherwise know as the Collector. They land on Tivan's base and get a somewhat warm welcome. After much useless diplomacy, they finally have a discussion about the cloned Groots. Tivan admits to cloning Groot after one of the Guardians' battles. Then they shift to his assistant, Kiya, whom helped him with the growing of the clones. Come to find out, she ran away, took some of his notes on Groot, as well as some of the other copies of Groot, and left a small trace from selling them. Because of this, they have to not only find Kiya, but collect all the Groots. After many delays, many fights, and many hours of flying into space, they find Kiya in a small apartment. After fighting her, Gamorra finds out that Kiya's the same race as her; a Zen...Zen-Who...Zen-Whoberi-what? For now, let's call them the Zen race because I have a hard time pronouncing this. Anyway, the real reason Tivan wants Kiya is for the augments he planted in her body. After realizing this, Gamorra and Drax attempt to beat the crap out of Tivan while the others lead Kiya to the ship.

All of them manage to escape the Collector's grasp, along with this strange Kiya chick and her grown Groots. She doesn't talk for a time, for her distrust is great. Instead of treating her like a prisoner, they treated her as their own. After she uses their shower, she eventually tells them her plan to escape Tivan's clutches for good by selling copied Groots to shady people (including a dad with spoiled children) as well as what he did to her. One of the important buyers was at a bar (on a planet I can't remember) and instead of retrieving information from Annay, the bar keeper, they are found out by the Collector and they have to escape him again. However, he's come prepared with an army of bots. Drax escapes with Kiya and Annay in a secret tunnel below Annay's bar, while the others are fighting Tivan's army.

After much fighting, the Guardians escape yet again with Kiya and Annay on board. They fly to Vardan, a planet where a ceremony is being held. It's also where this politician will strike, for he is indeed one of Kiya's buyers. However he bought a poisonous Groot and plans on killing an entire city for his political gain. After planning, they go into the city to save it; long story short, they evacuate the citizens in the area, and it was all the Groots whom save it by merging and block the poison.

Then the Guardians fly to Tivan's base to hand Kiya over only it was an elaborate plan to trick him. After they did so, Kiya ended up on her home planet where she will be house arrested for the rest of her life as well as having her augments complete.

Finally the Guardians flew into space where they might save the galaxy yet again.

​Theme

The theme isn't exactly clear. Apparently it's about trauma and accepting that you can't really go back to what "normal" was.

Good Stuff

The author seems to do well in plot building, you can tell if you made a short time-line about it.

It appeals to the ages of eight for its corny dialogue, somewhat funny jokes and its innocence at trying to tell the story. I believe it stays true to the comics, mainly due to the jargon and the fact that Marvel published this. The real character development going on here is Groot, though the author tried to make Kiya the protagonist, I believed it was Groot that took the spotlight for his kind and innocent heart, his love for humans, and his protection against poisonous spores that could have killed the citizens of Vardan.

The author's research on growing Groots seem legit as well his body absorbing the other Groots to himself.

The author tries to express the theme in trauma, I'll give her that too. She actually says it

here

:

"I focused primarily on the characters and their conflicts. Those conflicts let me explore some themes I've also played with in my other novels, like identity or trauma; these themes fascinate me, and I loved weaving them into the story and the character arc, but I did try to keep the focus squarely on the individual characters rather than getting too abstract and philosophical. First and foremost, this novel had to be about plot, humor, and characters."
In the cultures of this world, she manages to do well in expressing them like how much the Kree and the DiMavi hate each other, as well as Tivan's Elder side in dealing with things.

The action in here is not too bad, it's decent. She describes how the actions in this book are carried out.

Problems

Though there was some good, unfortunately this contained more problems in this book (and believe me, I would know). For example, some of the sentences repeat in this. "Wow" you must be thinking "Kent, that's such a

small

detail, no one would pay attention to

that."

You're right, you would probably miss it. But would you miss the same line in a bad song, being in constant repeat all the time until your ears bled? Of course you would! Their are plenty of terrible songs that have a repetitive structure that make it not only boring to listen to, but also annoying. That's the case with this book, it's definitely cringe worthy.

The characters in this book lack developement. Why? Well when you think of a character like Harry Potter or Katniss Everdeen, you love them not because of the things they say (although that's also some of the best in those books), but because you remember their dreams, hobbies, and all the traits that make them who they are; in the end, you come to love these characters and feel as though you're fighting with them. Not in this book, did I ever find this. I found weakly developed characters that had no hopes, no dreams, no habits, no originalities, not even the things that made them different from each other. It seemed as though the author was trying too hard at making these people clowns instead of real people. I would have liked to see what it was Gamorra feared, like spiders; or a quirky obsession that Quill had. Or even a softer side to Rocket where it showed his weaknesses and not his expected side like the world class jerk he is. Besides, they didn't do anything that surprised me. As a reader, I'm supposed to be astonished if a "good" guy makes a terrible choice that causes utter ruin, or a "bad" guy making a beautiful choice that not only benefits them, but also others around him. A story without this is meaningless.

The jargon in this book was too ridiculous to pronounce. I've read better science fiction books with better made up words.

Every word at the end of a sentence was a *shudders* adverb. It was he gasped this, or she mused that, or they laughed this...you see my point? It's stuff like that makes anyone, including me, recoil. It should have ended with a simple he said, she said, they said...see how much better that sounds? I think she was trying to reflect body language, which is something some authors have issues with. If she wanted to include body language, she should have described it before the characters said anything. Besides, look at the slang! Who in the world says

flark?

It just sounds unnatural, like you're trying to substitute sugar for sweetener. If you're going to curse in a book (and I recommend not to), you might as well say it instead of using the second or third word that came to your mind because it just doesn't sound like you're being honest to the reader.

The author didn't seem to portray her thoughts at all. The only kind we see is based off her theme on trauma (it definitely was, just by reading this trash). The only reason how I know this wasn't because I read it, I had to have help from the

internet

to tell me what it was. Even the theme itself was vague! I honestly didn't learn anything in this except

not

to write that kind of quality in anything just to fill space or to end the story as fast as she could, and not because she was eager, but because it was as if she was bored herself!

This book was published this year, here's my point, it felt as though she took some lines from the movie. C'mon, add your own creativity! It didn't feel original or creative at all. More like a shadow of its predecessor. I mean sure, not every idea is original, in fact most are re-hashed. What I'm trying to say is this: make the writing style your own, not a copy of someone else's. Just look at some literary works made from classics like the Lion King, a story from Hamlet. Even though it was set in Africa, it had the same story from Hamlet (well, maybe not

all

of it). Flip it around, if it's set in space make the story different; make it non-canon if you have to! Because the whole point of a story is to sway the reader like a dance. Gregory Maguire manages to do just that perfectly in his many books on the Grimm fairy tales, but his best being Wicked, based off the Wizard of Oz.

I'm going to get so much hate for this, but whatever. Was it

really

necessary to add a lesbian? Let me rephrase that, was it necessary to

force

one of the characters into being one? I won't get into whether it's wrong or not (I might write an article about it soon anyway), but I felt like the author only did that to push her own agenda in making it published. Now you or her can spout all that crap into 'relating' to homosexuals by saying they're a 'minority' and that they need to be 'recognized' as normal people. If you say that, I'll roll my eyes simply because I'm not criticizing whether or not it's right to be that way, but because that part was unnatural in the sense of this character's personality. Yell at me all you want, but this can't be ignored. Let's say (if you had one) your brother was naturally supposed to be a rebel, with a violent heart. Well what if one day he forced himself to be fake by acting good and all? He wouldn't be who he truly was because that part is not a trait of his. Besides, don't we live in a culture that says 'be yourself?' Wouldn't it be hypocritical if our culture taught us to be 'spontaneous?' If so, then a forced trait shouldn't be 'forced' upon if it isn't who they

really

are. It's just lazy writing to include something like that so our society could accept it as well as getting it released.

Overall, this book is filled with a number of cliches that could kill some brain cells, making it predictable and plain boring. Sure, the action is great, but besides that, it felt like a waste of my time. I could have been reading something else with just as many cliches; any of those stories seems better than this. While she tries to relate to traumatized people, I don't think it's something she's experienced. Sure, I get the part about not being philosophical, but the story has to reflect the author

somehow

and that means what she did in the midst of some sort of pain she was in. I'm afraid if we were to truly reflect the author's life it's that she can do all the research she wants, all the plot building, and character development she'd like, however if your heart isn't poured out into all the pages of a story, then clearly you'd be known as the writer who did nothing but observe from the inside your home instead of going out to where the adventure really is, the real world.

A little about me

I love to read as well as in great varieties. My favorite genre is Fantasy and my favorite books of all time is Lord of th Rings.
Powered by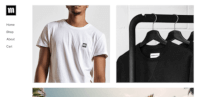 Create your own unique website with customizable templates.
Photo used under Creative Commons from wuestenigel