Out of the five Stephen King books I've read, this one is the most impressive. The characters were great and fleshed out. My favorite was Nick Andros, a deaf mute that survived the flu and lead the committee (with an awesome looking eye patch over his left eye). The other characters were great, like Stu, Frannie, Harold, Nadine, Larry, and the Dark Man (Randall Flagg). What made them great was that the author not only included their personalities, but also their flaws, secrets, and stereotypes.
The story is about a superflu epidemic that eliminates 99 percent of the world. A group of survivors must come together to choose a side to take on, which is evil and good. Now King's definition of what's 'good' or 'evil' is pretty vague, but it's still a good story nonetheless. Both forces have a representative, the side of good has some one named Mother Abigail, who is 120 years old and a lot of grit. The side of evil has someone called Randall Flagg, otherwise known as the Dark Man.
​At first, it's a little bland, but it gets better. I would rate this book a solid five star because of its climax and the falling action was most interesting out of the whole book. Now, the language and content is adult, but all in all, this was a King's best.

Author

I'm just your average young adult trying to write in this world. I love writing with a passion, which is one of the reasons I made this blog.
Powered by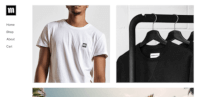 Create your own unique website with customizable templates.