Hello Readers! My apologies for not writing in so long, to be honest, I've been busy with not just school, but two deputation trips to Florida, and Iowa. I've also been focusing all my attention on writing my book, which is two large steps to being done. I finished Act I, and now that I'm almost half way there to finishing the first draft, I can say that my struggles from when I first wrote it a year ago is fading in the distance. Yet there will be new obstacles that shall come my way.

I've also set my goals to making a portrait on Jean D'arc in art, it's in its early development, so I can't really say if it actually looks good yet. Although I'm pretty confident that this will be my best piece. The style in which it will portray is in colored pencil, and I've made many 'drafts' on this so that I can apply them to the real deal. I'm hoping that it will be done before April, for that's when the art show will display some of Strafford's art (my school btw).

I'm not sure if I'll continue writing my critiques this month, however two of them are in the making so I hope to publish them for you to read soon. Something that will hold me back though is track, which will start next week. I'll be so exhausted that I will have to decide to write some of my book, or write here, in this playground I call a blog.
​Oh yea, one other big thing is that my graduation is in a month or so, and I'm excited. Sure I'll be sad later on, but for the moment, I just want to get the heck out of here. I wan to take a gap year and travel all over Europe, one place I genuinely want to see is the Black Forests, South East of Germany.

​Well that's that, so please endure for the many posts to come.

Author

I'm just your average young adult trying to write in this world. I love writing with a passion, which is one of the reasons I made this blog.
Powered by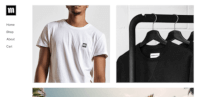 Create your own unique website with customizable templates.